TIME Scylon Disc V12 (Gloss Red / Gloss Carbon / White Logos) Road Frameset
The Scylon is TIME's most aerodynamic offering – a purebred racing machine based on exhaustive simulations and fluid dynamics analysis. 1050g of powerful shaping is optimized to slip through the air while relentlessly transmitting every watt to the road. The agony of a fast, windy breakaway cannot be reduced, thankfully the sprint will come a few seconds sooner aboard this weapon. A carbon layup that blends Vectran© fibres with high-strength and high-modulus carbon balances performance with the necessary strength and damping needed for all-out efforts.
Is It Your Time?
The Scylon rider is a strong athlete who wants a bike that will reward input to the pedals above all, while providing any aerodynamic advantage possible. The high-tech, stylish shaping of Scylon announce this rider means business – whether sprinting for the line or relaxing mid-ride with an espresso.
Features
Resin Transfer Moulding (RTM) - Resin Transfer Moulding is the best way to minimize defects in the frame structure. By laying up dry fibres and then injecting resin at high pressure between rigid external AND internal moulds, air pockets and voids are eliminated. Unlike the industry-standard prepreg layup and air bag moulding, RTM quality is uniform and consistent yielding a beautiful near-finished product. While the RTM process is ubiquitous in aerospace and high-end automotive applications, it's almost unheard of in cycling and your TIME is unique.
Braded Carbon Structure (BCS) - Braided Carbon Structure is the weaving of dry fibres into complex bi-directional 'socks.' These tubes of fibre are easy to tune with different materials – TIME currently choses from 16 filaments to perfectly tailor our layups. This process also allows something that is unheard of in the cycling world; continuous fibres that run the full length of a structure. With standard prepreg layup, fibres end where the sheets do, creating inherent weaknesses. BCS is the way we've always made our products and we're the one of the only bike manufacturers doing it.
Aktiv Fork (Optional) - Specially designed by TIME using proven vibration reduction engineering methods, the AKTIV Fork conceals an innovative tuned mass damper that neutralizes road noise before it travels to your hands and arms. Unlike polymer inserts or springs, AKTIV is incredibly light and sleek, providing real anti-fatigue benefits with a minimal weight penalty.
Specifications
| | |
| --- | --- |
| Fork | Carbon RTM Scylon Fork, CMT inserts (Carbon Matrix Technology) - AKTIV or Standard Models |
| Geometry | Racing Drive Geometry |
| Headset | TIME Quickset, adjustment system with independent mounting of the stem and adjustment of the headset |
| Sizes | XXS-XS-S-M-L-XL |
| Materials | Braided Carbon Structure (BCS) High Modulus Fibre, Vectran© Fibre |
| SKU | V_SCYLON_19 |
| Weight | 950g |
| Translink | Available to Distributors by Special Order Only |
Geometry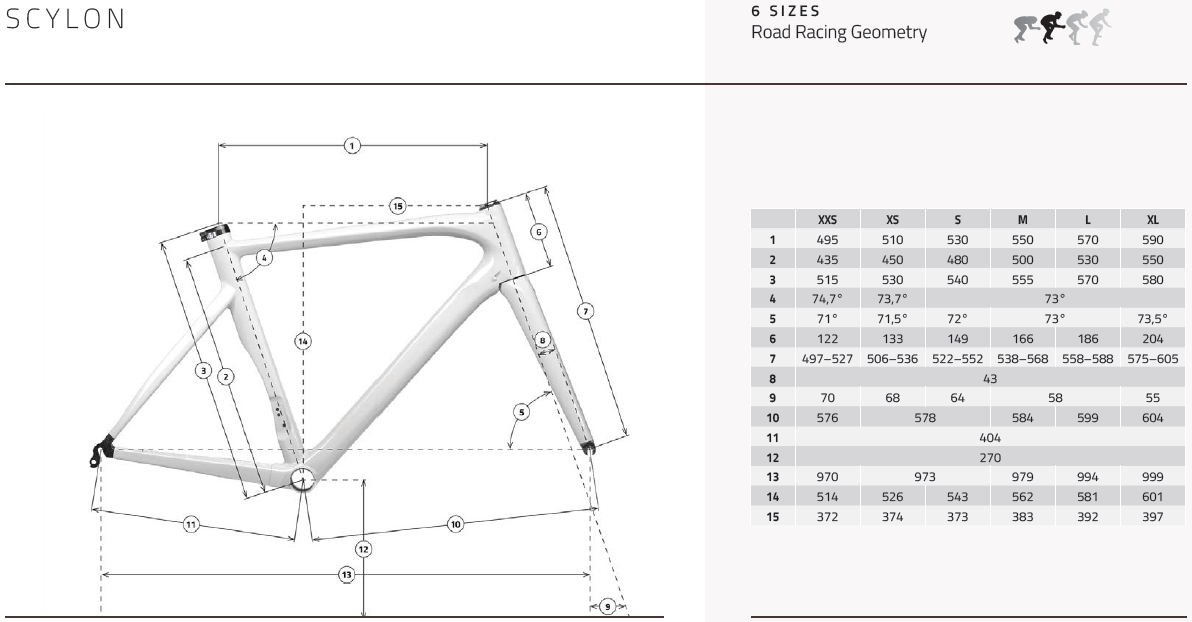 About The Brand
Perfection in Every Strand – Since their foundation in 1987, TIME has continually pushed the boundaries of technology, design and innovation. TIME is driven by the desire to build the best bikes in the world and their guiding principle - Le Defi / The Challenge - inspires them to never rest, never take the easy option and to lead the way.