TIME Alpe D'Huez 21 Disc V11 (Gloss Carbon / Matte Black Logos) Road Frameset
To make lightweight performance more accessible, TIME created the Alpe d'Huez 21. Instead of the Vectran© fibres used in the Alpe d'Huez 01, this frame blends Basalt filaments with a smaller proportion of high-modulus carbon and a greater amount of high-strength carbon. The modified layup targets comfort and smooths the ride while retaining a pleasantly refined acceleration and impeccable handling. If the Alpe d'Huez 01 is our two-seat supercar, the Alpe d'Huez 21 is a V10 performance sedan.
Is It Your Time?
The Alpe d'Huez 21 rider has learned that a smooth bike is often the fastest bike, and weight is just one factor when choosing a bike tough enough to handle the rigors of daily use. This rider is looking for a tool that excels on every ride, over any course profile, eschewing the luxuries of fresh tarmac and spotless handlebar tape.
Features
Resin Transfer Moulding (RTM) - Resin Transfer Moulding is the best way to minimize defects in the frame structure. By laying up dry fibres and then injecting resin at high pressure between rigid external AND internal moulds, air pockets and voids are eliminated. Unlike the industry-standard prepreg layup and air bag moulding, RTM quality is uniform and consistent yielding a beautiful near-finished product. While the RTM process is ubiquitous in aerospace and high-end automotive applications, it's almost unheard of in cycling and your TIME is unique.
Braded Carbon Structure (BCS) - Braided Carbon Structure is the weaving of dry fibres into complex bi-directional 'socks.' These tubes of fibre are easy to tune with different materials – TIME currently choses from 16 filaments to perfectly tailor our layups. This process also allows something that is unheard of in the cycling world; continuous fibres that run the full length of a structure. With standard prepreg layup, fibres end where the sheets do, creating inherent weaknesses. BCS is the way we've always made our products and we're the one of the only bike manufacturers doing it.
Aktiv Fork (Optional) - Specially designed by TIME using proven vibration reduction engineering methods, the AKTIV Fork conceals an innovative tuned mass damper that neutralizes road noise before it travels to your hands and arms. Unlike polymer inserts or springs, AKTIV is incredibly light and sleek, providing real anti-fatigue benefits with a minimal weight penalty.
Specifications
| | |
| --- | --- |
| Fork | Full Carbon RTM Technology with AKTIV Vibration Damping |
| Frame | Full Carbon RTM Technology |
| Geometry | TIME Racing Drive Geometry |
| Headset | TIME Quickset Adjustment System (independent mounting of the stem and adjustment of the headset) |
| Sizes | XXS-XS-S-M-L-XL |
| Materials | TIME Proprietary Carbon Fibre Braid consisting of HR Fibres (high resistance), HM fibres (high modulus) and basalt fibres |
| SKU | |
| Seat Post Size | 27,2mm |
| BB Size | BB386 |
| Wiring | Mechanical or electric |
| Weight | 960 grams |
Geometry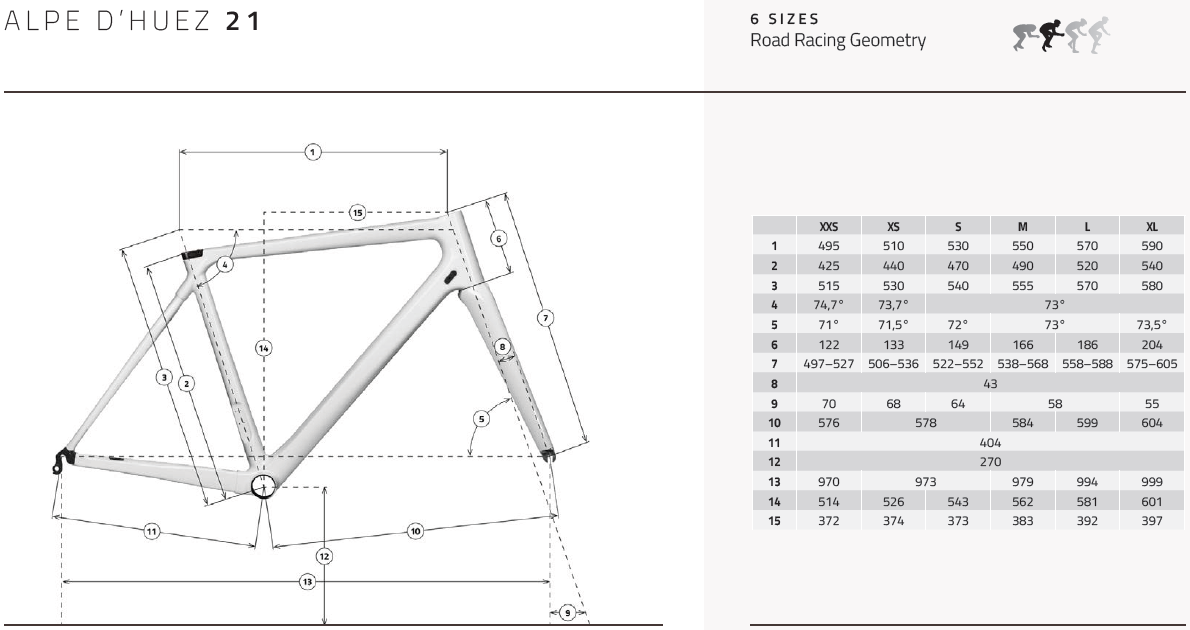 About The Brand
Perfection in Every Strand – Since their foundation in 1987, TIME has continually pushed the boundaries of technology, design and innovation. TIME is driven by the desire to build the best bikes in the world and their guiding principle - Le Defi / The Challenge - inspires them to never rest, never take the easy option and to lead the way.